A new city district is currently emerging in what is the very best location in Skövde – and it combines the best of several worlds. How about living in safe, green neighbourhoods adjacent to the city centre, the university and Skövde's most creative companies and entrepreneurs? In Skövde Science City, homes will be mixed with business premises, meeting places and services to create a dynamic and vibrant city district.
Live, work, enjoy – repeat
More and more people want to be able to combine a career with family life and enjoy a range of leisure activities. And when your job can be done just as well in an office, on the train or at home, the city needs to be designed to make that possible. In Skövde Science City, we are shortening the distances to what is important and quite simply making life easier.
The new city district will have its own identity with freer architecture and tall buildings. Plans for the area include modern homes close to the city, new schools and preschools nearby shops, activities, healthcare and other services. Everything is framed by a carefully considered external environment, featuring fantastic green areas, pedestrian paths and meeting places.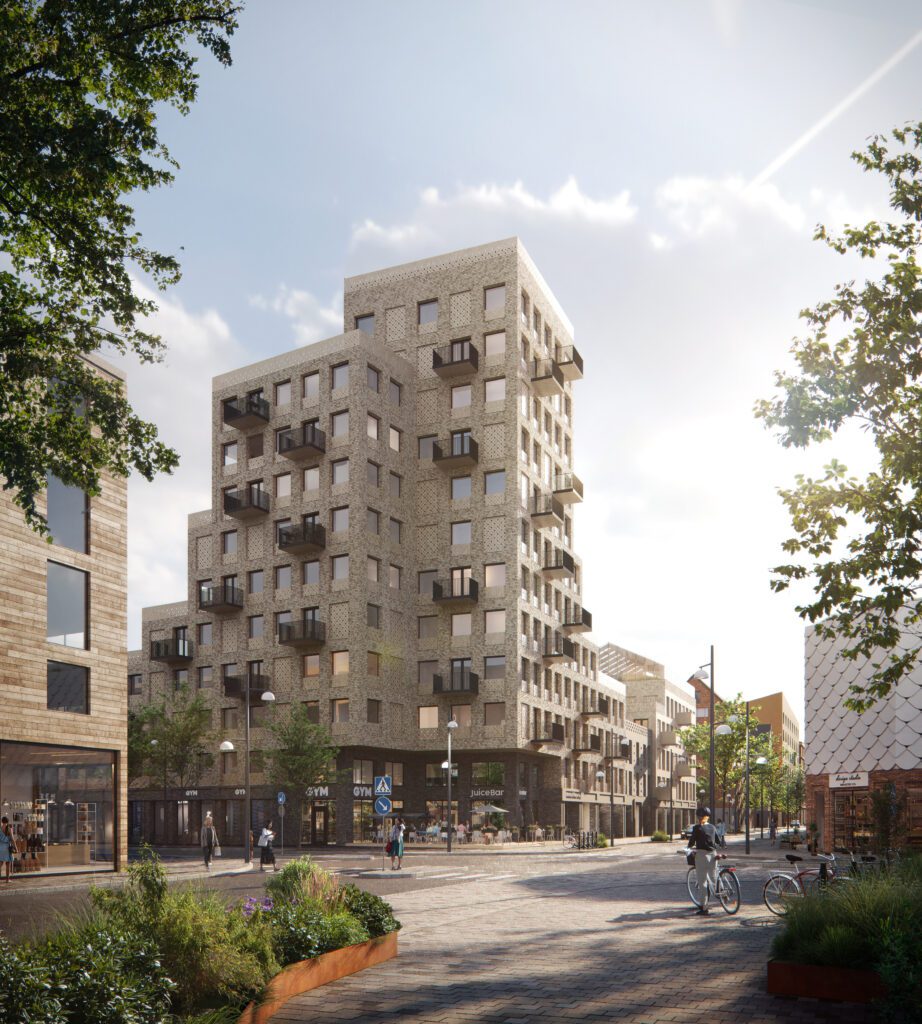 In parallel with a safe and simple everyday life, space is also being created for a dynamic, expanding business sector. Business premises for 600 new workplaces will be built as part of Science Park Skövde's expansion. This is an investment that will allow the establishment of more new businesses in Skövde's strongest profile areas – smart industry, game development and fin-tech.
Connect without cars
Skövde Science City will be characterised by sustainability and interesting mixed-use development, with homes planned to suit the different phases of life. From here most services will be within walking distance, and the district is being planned based on reduced car usage. A win-win for both the wallet and the environment. Pedestrian paths and cycle paths will instead take you quickly to work or your studies, or to shops and restaurants. And for those of you who want to go further afield, the transport hub is just a stone's throw away. With an hour's train journey to Gothenburg and two hours to Stockholm, the location is perfect.
Explore the home of talents
Skövde Science City is part of a creative development zone that consists of the knowledge corridor that connects the University of Skövde with Science Park Skövde. Here you will be able to educate yourself, live and work. There will therefore be considerable focus on students. In the neighbourhood closest to the university and Science Park Skövde, the homes will be built with younger adults in mind. Of the 170 apartments being built in the first neighbourhood, 50 will be student housing and 30 apartments will be allocated for young people up to the age of 30.
Time to level up? Join the game!
Do you also want to explore the possibilities with us? Here in Skövde there are opportunities to contribute knowledge, realise real estate projects and be a part of something extraordinary.
The first companies to build 350 homes will be the real estate arm of the Jula Holidng Group, G & K Blanks fastigheter AB, and Jättadalen Utveckling AB. Their proposal won out in the land allocation competition held for the construction of the first stage of Skövde Science City.
Click on the links for more information!
Building in Skövde Science City >>
Set up in Science Park Skövde >>
Establish in the rest of Skövde Science City >>.
Move to Skövde Science City >>